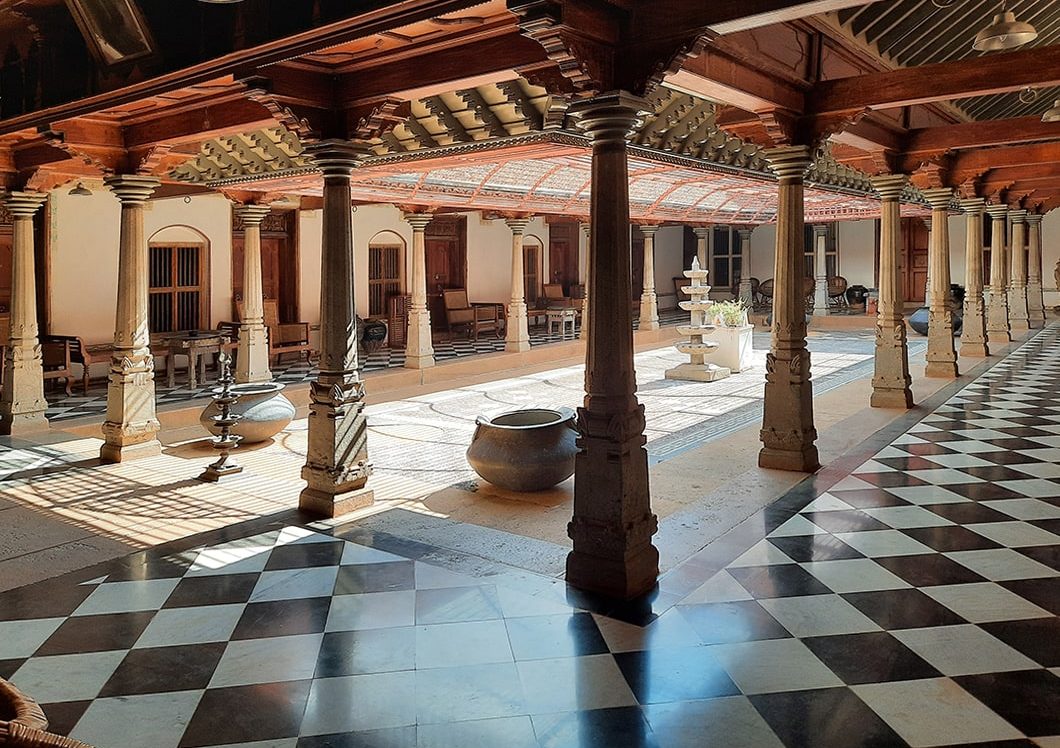 Like all the mansion in Chettinad, the house was constructed following the rules of Vastu Shastra, the traditional science of architecture of wellbeing. It is comprised of a succession of inner courtyards and halls laid out on a longitudinal axis opening a perspective along the entire length of the house.
The main verandah at the entrance of the mansion is guarded by columns of dark marble and opens into a grand hall crowned with chiseled woodwork painted in delicate colors. The central courtyard is surrounded by carved granite pillars in the style of Dravidian temples and is followed by a dining room encircled by an arcade of heavy stone columns under decorated cornices covered by a pressed metal ceiling imported from England.
The perspective which crosses the whole house from West to East, opens on the ancient kitchen courtyard, today the open-air restaurant, then finally on the garden planted with hundred-year-old coconut palms where we installed the swimming pool.
For finishes and decoration, the founder, Subranania Chettiar, does not hesitate to bring the best from around the world: Burmese teak, ceramics from Japan or Europe, marble from Italy and Belgium, the great crystal chandeliers and mirrors from Belgium. The result is a blend of unique and sophisticated Tamil and Western architecture.